What an incredible Autumn Sydney had... 20-22 degrees in the water, beautiful sunny days - no excuses to get out and enjoy with a swim in some incredible conditions!
A ocean swimming season of wonder... as always.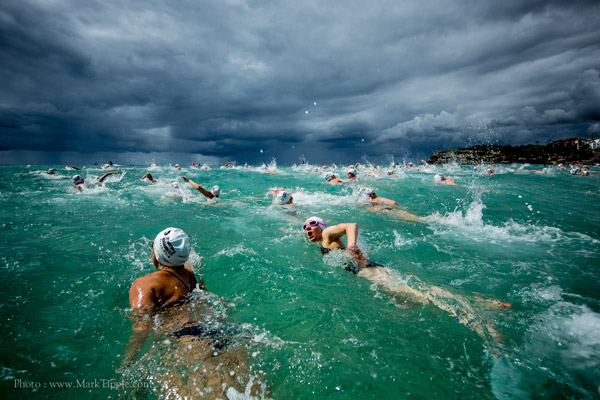 What an eventful 2013/2014 season the ocean swimming community had... from heart break (for "awgies" and swimmers alike!) with a couple of cancellations, to some of the calmest, most glorious conditions (some may say boring), back to the challenge of overcoming some big turbulent seas.
There's one thing for sure - the passion continues to build for ocean swimming.
Macquarie Bondi to Bronte 2014
We have had some wonderful feedback from 2013 and have started fielding questions on the 2014 date - so get your diaries, calendars & smart phones at the ready...
The Macquarie Bondi to Bronte is traditionally the first Sunday in December every year - so lock in Sunday 7th December please - entries will open later in the year.
We can confirm the Bronte Bay swim will return for a 2nd year - for those who aren't quite up for the B2B. The Bronte Bay, an adults 800m swim, from Bronte Beach to Mackenzie's Bay (past Tama) and back.
The Banana Boat Bronte Junior Ocean Swim will also return with 400m & 800m distances for Nippers from any SLSC. Bronte SLSC is passionate about developing the skills and abilities of Nippers and we love celebrating participation through the Junior Ocean Swim.
Fancy a "Big Blue" Greek Swim Adventure this year?
A friend of B2B, Jo Dounias, is once again running "The Big Blue" Swim Tour inspired by Luc Besson's film "The Big Blue", from 25th Sept 2014. The Big Blue swimmers will stay in luxury accommodation at the Aegialis Hotel and Spa on the island of Amorgos for 8 nights.
Jo tells us that "Amorgos Island is an unspoiled, Greek Island which boasts a dramatic coastline, crystal clear water and is proud to have retained it's charm and traditional character... unlike some of the other more "touristy" islands."
Sounds pretty incredible and with a passionate Greek Aussie as your guide - it sounds like a perfect adventure, pre-summer swim getaway!! For more information see all the details in this fact sheet or for daily swim itineraries and more information contact Jo directly email or call 0410524944
B2B continues to support The Kids' Cancer Project
Bronte SLSC is proud to continue it's support of The Kids' Cancer Project in 2014 and beyond. Over the past 3 years the partnership has raised over $100,000 for kids cancer research!
The success and support from Bondi to Bronte swimmers has been incredible and we thank every fundraiser and their supporters. As a reminder - when you fundraise $250 or more for TKCP you can have your B2B entry refunded (or donated too!).
How can you boost your fundraising in 2014? Many businesses match their employees fundraising efforts... so find out if your employer has a match program! We know of the following who match employees efforts: Macquarie Group, Origin Energy, NAB, Vodaphone, UBS, Westpac, Fosters Group, Russell Investments, Unilever, Google, Deutsche Bank, Sun Microsystems, AMP...
Come along to an ARCHY ARTY PARTY for a swimming great!
Swimming legend, Neil Rogers, is the subject of the inaugural Archibald Portrait by local artist and passionate ocean swimmer Sian Faber.
On Wednesday 25th June, Sian will unveil the 4.5m portrait of the dual Olympian and champion butterflyer at Bondi Icebergs from 6.30pm. Neil or "Coach" as he's known to Sian, has been the voice of the Bondi to Bronte for a decade, amongst many other swims! We encourage everyone to get down to Icebergs next Wednesday to join in celebrating Sian's work of a champion.
Bondi SLSC to launch Winter Swims!
We are excited about news that Bondi SLSC is planning a couple of winter swims. From what we hear they are currently throwing around a few dates however it's looking like: Sunday 27th July, Sunday 24th Aug and Sunday 21st Sept.
It's great that there will be a few more events to keep us going through Winter and for those preparing for SLS World titles in France later in the year.
If you have any questions or would like more info on B2B don't hesitate to drop us an email
Happy Swimming!
Macquarie Bondi to Bronte Ocean Swim 7th December 2014