Enter the most iconic ocean swim in Sydney, the Macquarie Bondi to Bronte.
We offer a range of courses for every ability and experience level, with a 1km, 5km and not to mention our classic 2km course, the Bondi to Bronte.
Professional athlete, daily or occasional swimmer, teams, family, friends - there's something for everyone at the Bondi to Bronte Ocean swim.
Still not convinced ? Check out some of the great testimonials from past swimmers below !
Stay up to date with the latest information - sign up to our newsletter below.
Win our Major Prize !
Thanks to our event partner World Series Swims everyone that enters the B2B swim online is eligible to win a fantastic swim weekend on the Gold Coast in April 2024. (note on the day entries are not eligible)
You don't have to be a superfish to be in the running, it's a random draw prize and will be announced at the post event prize presentation on Sunday 3 December.
The lucky winner will receive a return trip for two people to the Gold Coast for the Cooly Classic Ocean Swim on April 14, 2024. The Major Prize includes return flights, accommodation and swim entries into any distance on the day.
Courses
About Ocean Swimming
Ocean swimming is an open water swimming discipline which is practiced worldwide.
There are multiple types of ocean swim: Around the buoys like the Bondi Bay course or the 5KM, Point to Point like the Bondi to Bronte, around a feature, along the beach, Aquathlon, swimrun and finally dash for cash. For more information on these different types of courses, check out this great article by Oceanswims.
Every ocean swimmer will tell you, swimming in the ocean connects you with the natural environment, whether it be alone or with your friends.
The great thing about the ocean is that it is free and open to everyone. As we all love to say at every opportunity - "you never regret a swim!"
Swimming itself is a great aerobic activity and ocean swimming through waves will help increase your swimming strength.
Joining a regular ocean swimming group will help you to arm yourself with the best tools, socialize and become addicted to it. There's plenty of room for everyone !
Not sure how to start ? Have a look at our training page.
How to enter
We have loads of information, including how to enter, on our dedicated Course pages. Before entering any course, please make sure you carefully read and understand the information provided on those pages, including in particular our policies and procedures and terms.
We can't wait to see you all on the start line !
Entries for the 2023 Bondi to Bronte will open in September 2023
Swimmer Experiences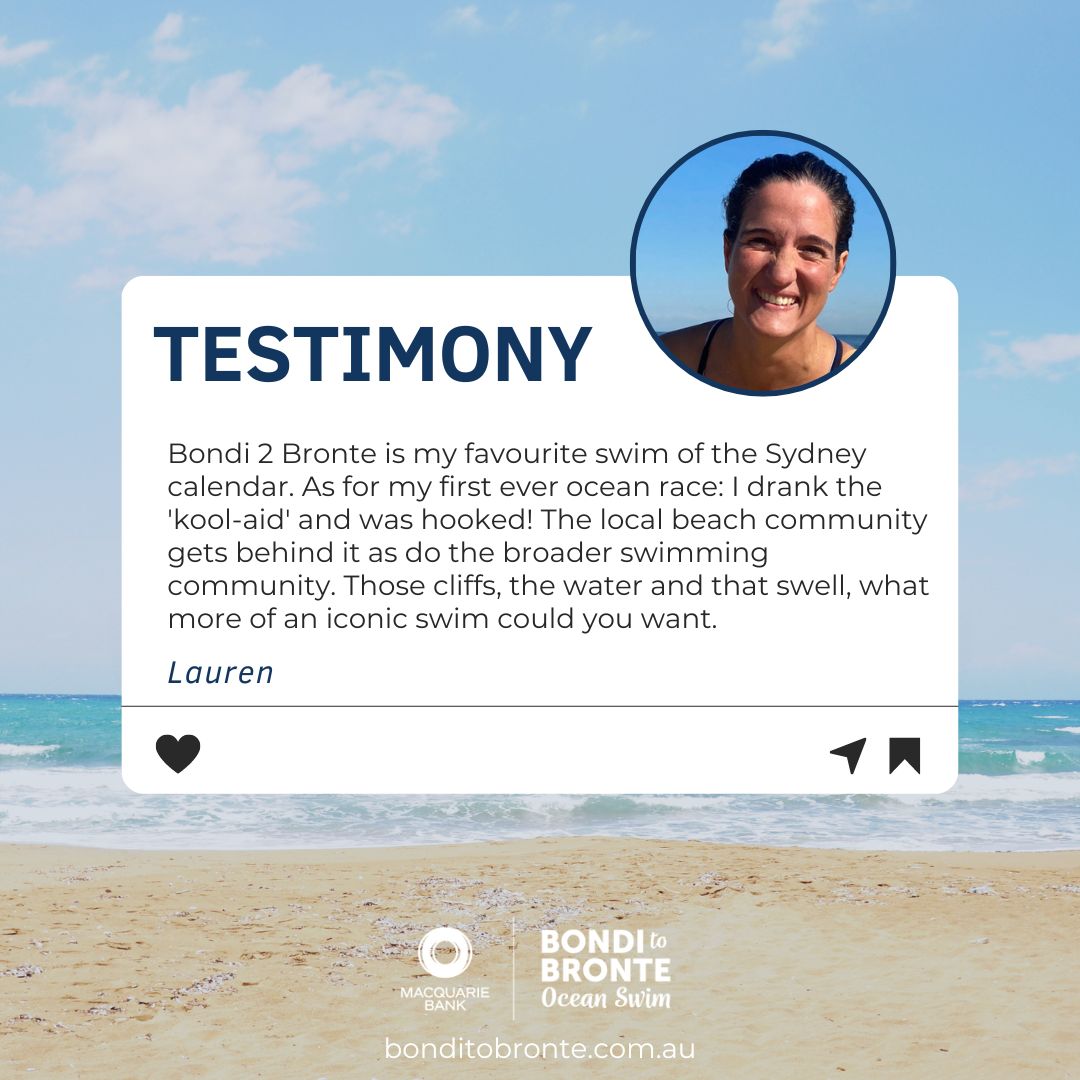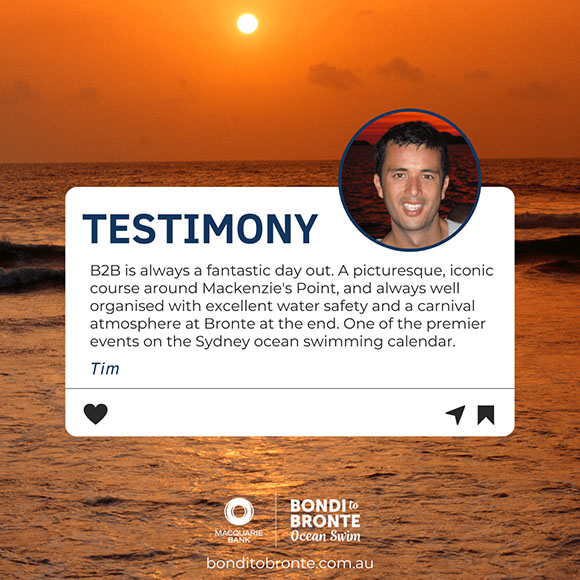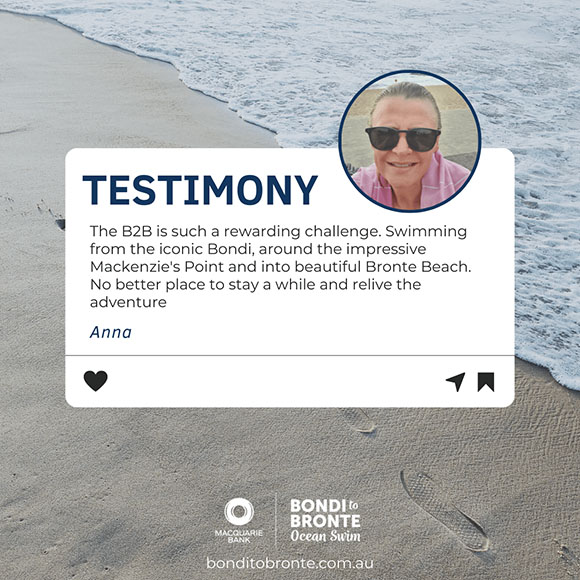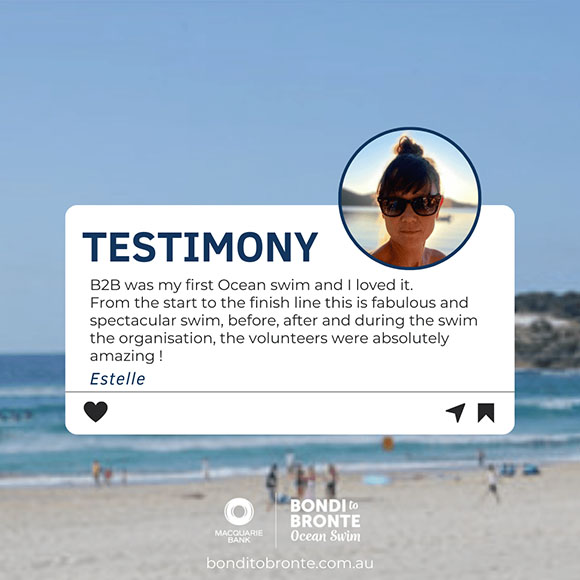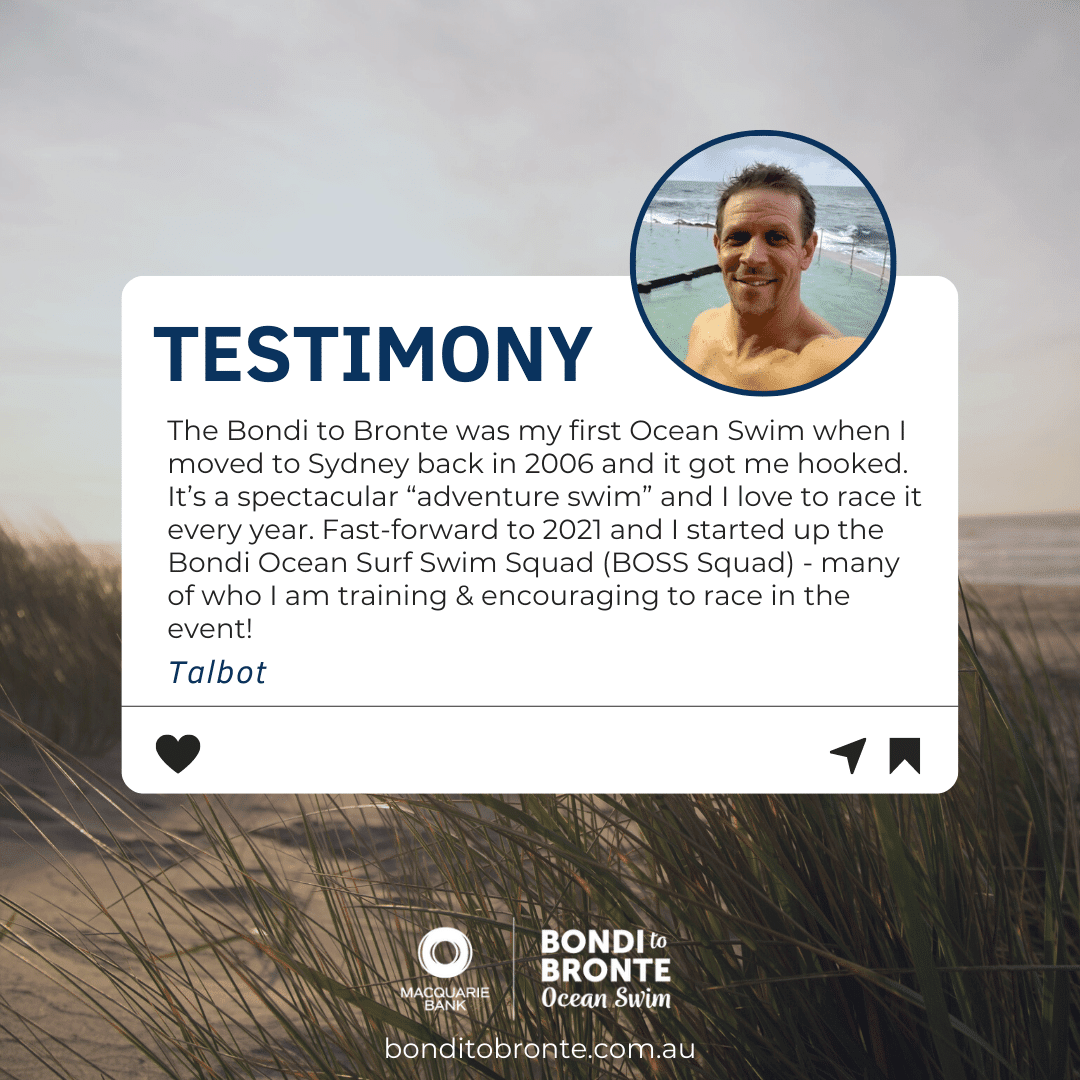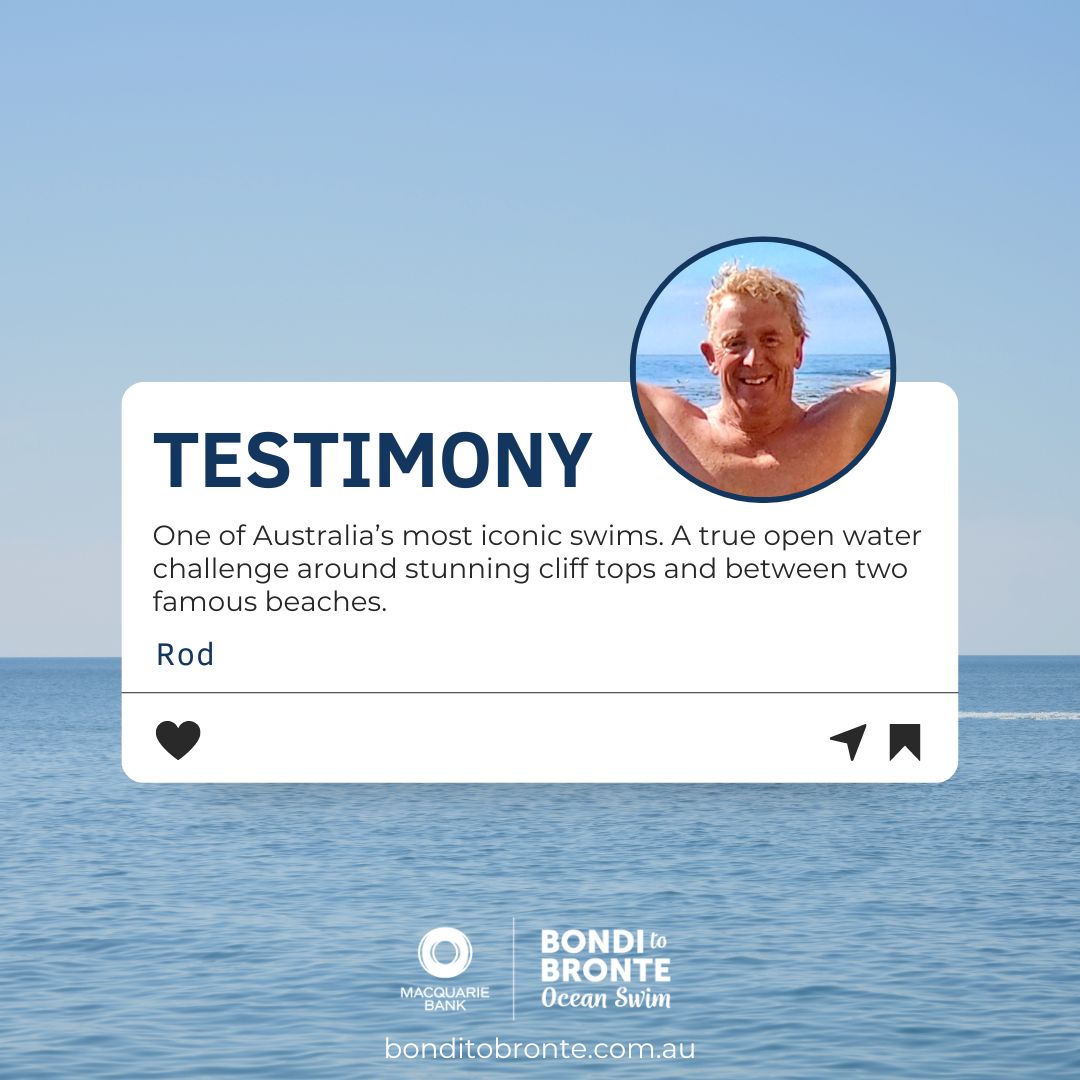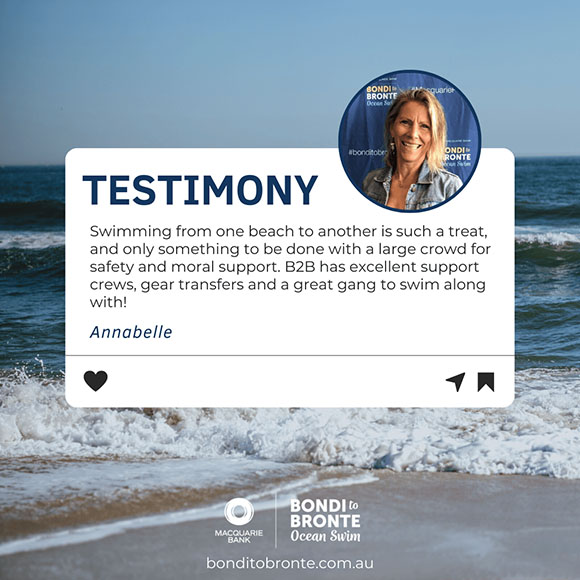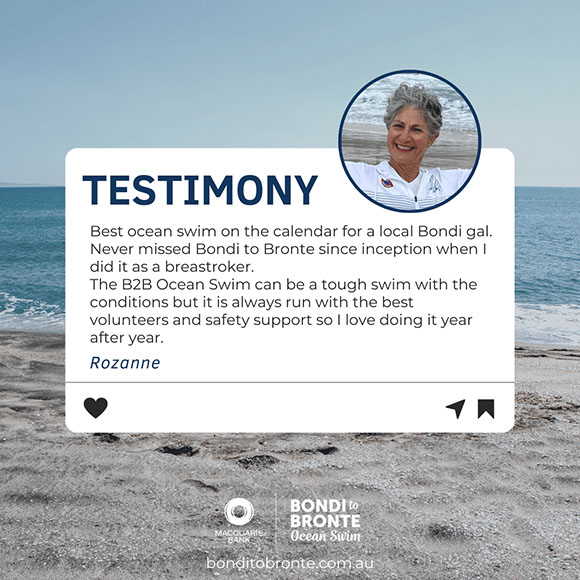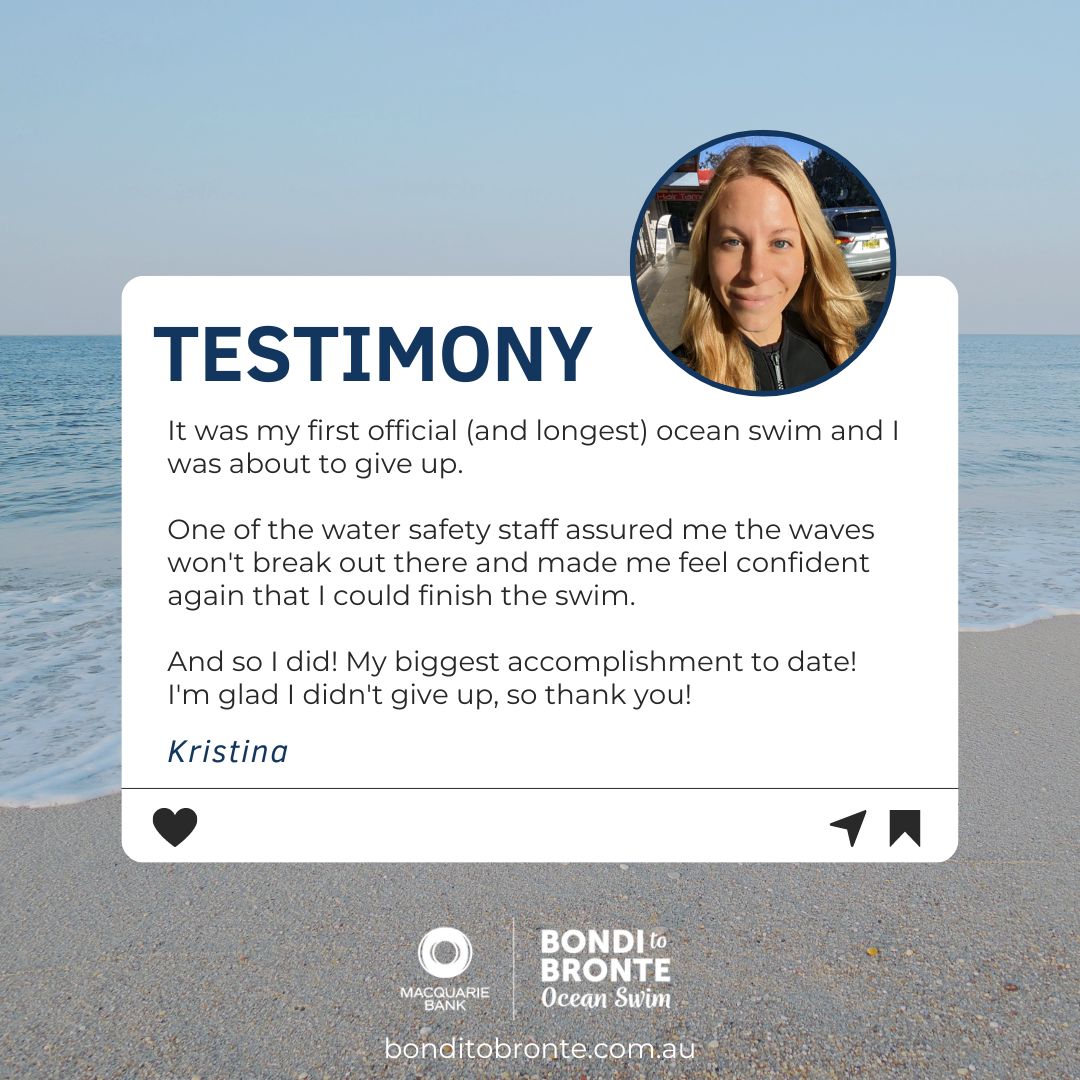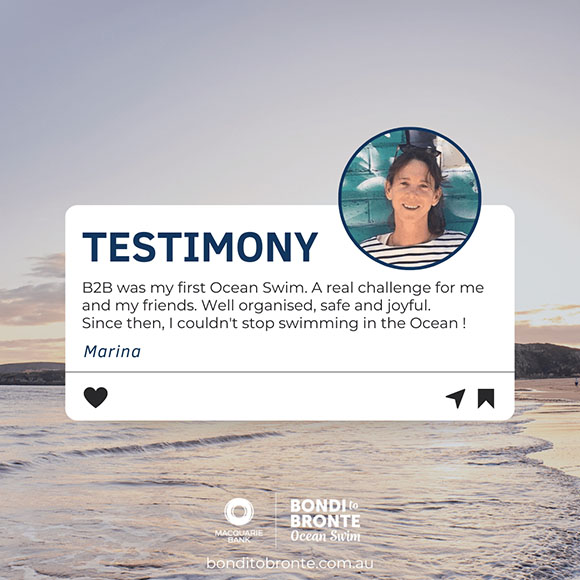 Event Day
The Macquarie Bondi to Bronte is always a great event day. We want to make sure that everyone enjoys this day as much as we do. Find all the information you will need as a swimmer or a spectator for the day: event program, food & refreshment, transport, personal belongings, …
We look forward to sharing a celebratory drink upstairs at the club's bar after the event !
History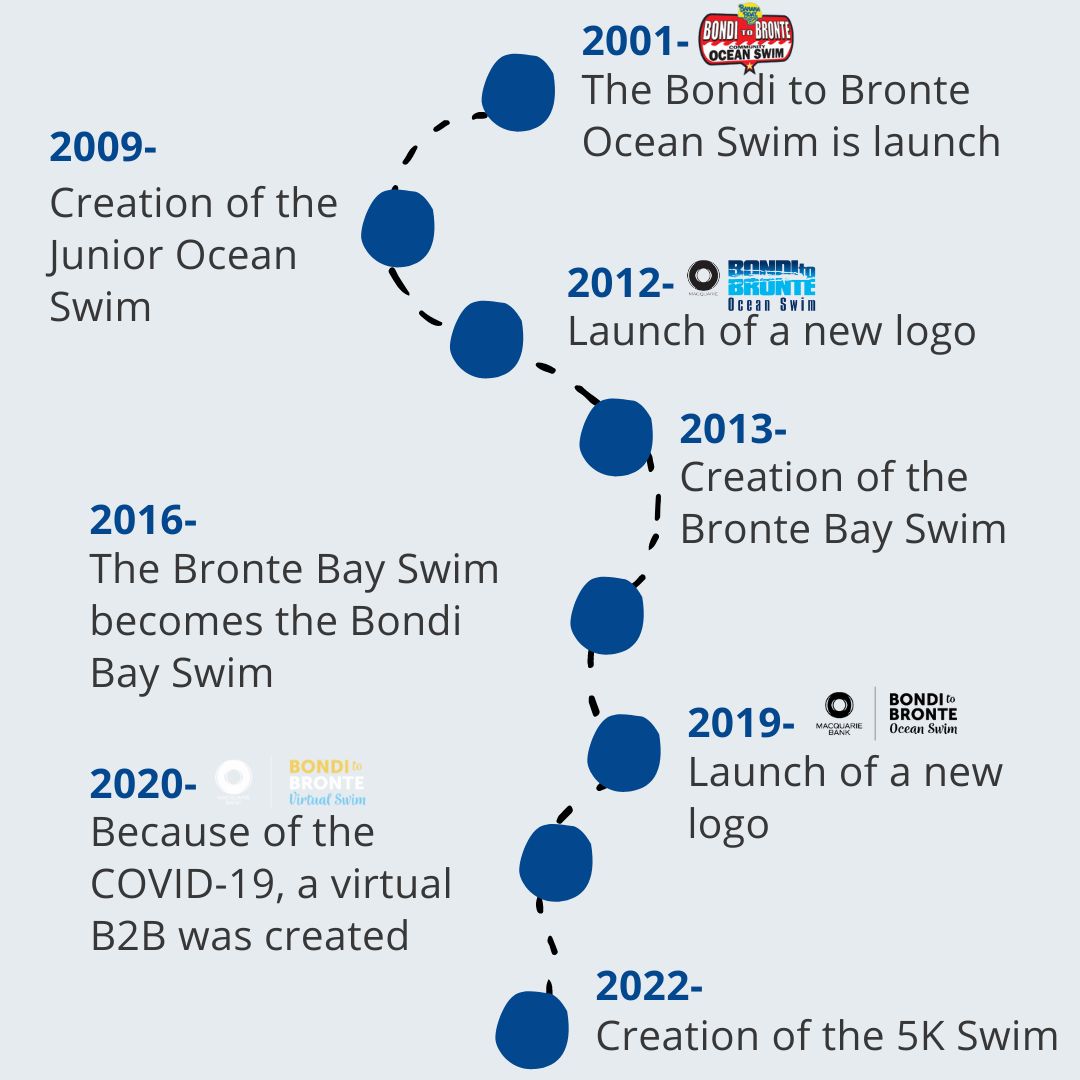 How it all began
The Bondi to Bronte Ocean Swim (B2B) was started in 2001 by the President of Bronte Surf Club, Graham Ford to raise funds to send a team of young Bronte Surf Club Competitors to the World Life Saving Championships at Daytona Florida USA in 2002.
"At the first B2B we were not sure how many people would participate. We thought 300 would be great for our first event and catered for 500 but over 700 turned up. It was chaos but somehow we managed with the manual processing of entries and times, how things have changed! with online entries and electronic timing".
Graham Ford, Patron Bronte SLSC
What it has become
The B2B has enjoyed ongoing success to now be established as one of the premier journey ocean swims on the calendar.
For Bronte Surf Lifesaving Club it's our major fundraising activity each year and it's impossible to run without the significant contribution of sponsors and volunteers.
From humble beginnings the B2B has become an iconic Sydney event... on the first Sunday of December each year.
Our Partners