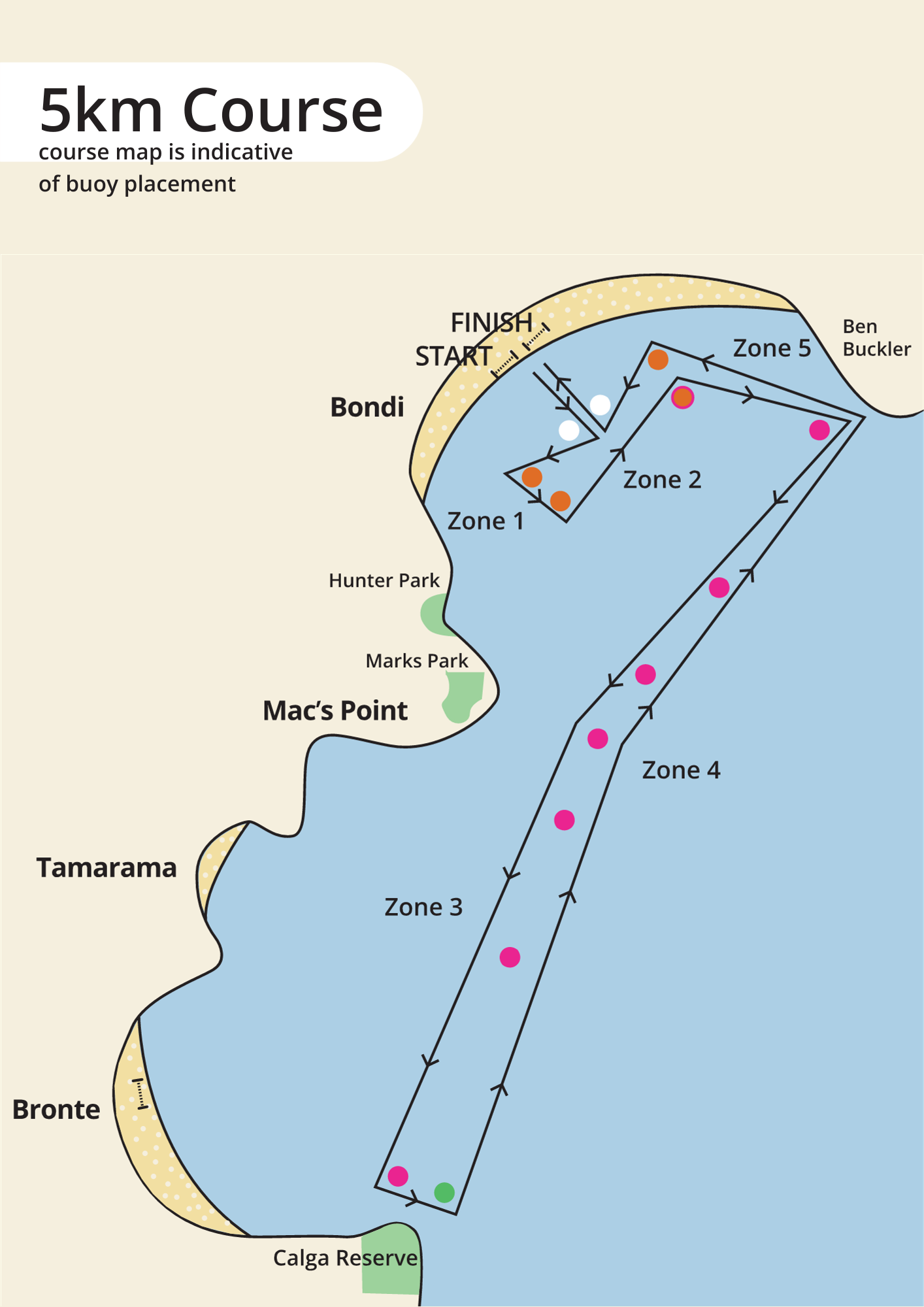 An epic coastal swim commencing out through the breaking waves at Bondi Beach, initially heading north to a turning buoy at Ben Buckler headland. You will then turn south to swim down the coast to Bronte past the famed Bronte Reef before turning north to head back up the coast and return to the sand through the break at Bondi.
The overall course distance is approximate, prevailing swell and weather conditions on the day will determine final buoy placement and distance.
A 5km epic coastal swim commencing at Bondi Beach and finish at Bondi Beach.
With a capped number of only 150 swimmers this is a very limited opportunity to participate in the 5km Bondi to Bronte to Bondi course.
All swimmers must mark their name off the list at the registration tables which will take place in Bondi Beach. Registrations open at 6:45am, so you can collect your wave's coloured swim cap.
No late entries will be allowed on the beach.
Don't be late, as the 5KM swim registration closes at 7:15am,
Start time: 7:30am
Please note: Start times are indicative only and may be subject to change by the event organisers on the day of the event. Announcements will be made if changes are required. Your understanding and patience is appreciated.
Only 2 categories: Male and Female




The minimum age on event day is 13 years old
The 5km swim course is open to advanced level swimmers only
You must be able to complete a 5km timed pool swim in under 1hr 30mins and are required to provide evidence to the event organiser by Friday 24 November 2023.
You acknowledge that the swim course distance is approximate only, and the final distance will be determined by bouy placement on the day subject to swell and weather considerations.
Participants under the age of 18 must have a parent or guardian present on event day.



The event organiser requires proof of eligibility which may be provided as either of the following:

Evidence of a 5km timed pool swim via a smart device (under 1hr 30mins) completed within 3 months of this event
Published results from a previously completed 5km open water swim (under 120 mins) completed within 12 months of this event
e.g., results page from the Sydney Harbour Splash, Cole Classic, Balmoral Swim or Malabar Magic Ocean Swim, South Head Roughwater or similar.

On the day, to ensure the safety of all participants and water safety:

all participants must complete the Bondi to Bronte 5km course within a cut off time of 120 mins.
Participants who have not reached the Bronte turning buoy within 55 mins, or the finish line within 120 mins will not be permitted to continue and will be removed from the course and returned to the shore at Bondi Beach by water safety personnel.

Everyone who finishes is a winner !

We offer $250 cash and a B2B embroided towel to the 1st male and female

Of course, if you beat your buddies, you will also get bragging rights !




Don't hesitate also to have a look at our prizes presentation page

| | | | | |
| --- | --- | --- | --- | --- |
| Wave Sequence | Start | Category | Fatest Time (2022) | Average Time (2022) |
| Wave 1 | 7:30am | All Male Swimmers | 0:57:01 | 1:22:55 |
| Wave 2 | 7:32am | All Female Swimmers | 0:58:46 | 1:22:37 |

Why do we have waves?

For swimmer and our water team's safety, as we need to limit numbers in the water at any one time.
To ensure swimmers are within a category suitable for their age.
To ensure fairness in competition and promote sportsmanship.

First and foremost, our responsibility to is to ensure the safety and comfort of all swim participants and our Water Safety Team. Equally, we want every single person to enjoy their swim experience.

Water temperatures and surf conditions can vary significantly year on year. Swell direction can keep people in the water longer than their average 5km pool swim, which in turn keeps our water safety team in the water longer.

We have a clearly defined wetsuit policy that enables all swimmers to decide whether to wear a wetsuit on the day dependant on conditions. The policy allows for participants to have a fair and equitable opportunity to win prizes if that is a priority for them.

We provide a complimentary, secure, bag storage service for all 5K participants, so feel free to bring your wetsuit and make the decision once you are at Bondi.

Please ensure, if you are keen to be in the running for a prize, that you have read and understood our complete wetsuit policy