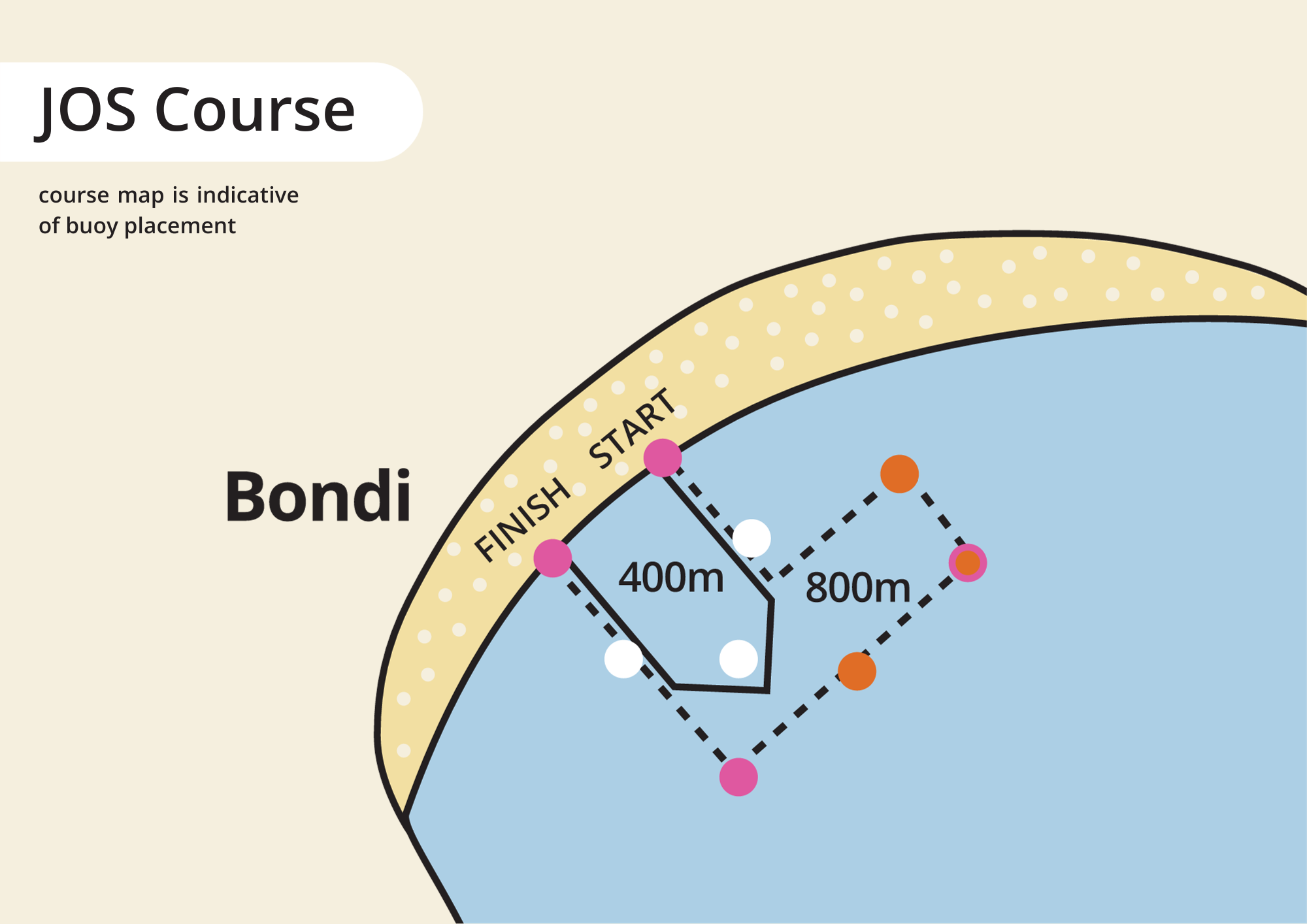 Both the Mini and Maxi course start and finish in the same location, so all swimmers can have their family and friends nearby to cheer them on and celebrate with them at the finish.
The final positioning of the buoys will depend on the conditions on the day. The above map is indicative of the intended course layout. Swimmers are to attend the course briefing for final course details, ensure they sight the buoys and listen to directions from the water safety team. Our water safety team will be there to guide and encourage all swimmers to help give them the best swim experience possible!
What's not to love about a junior ocean swim! The perfect first time ocean swim challenge and an ideal stepping stone to the longer 1km or B2B course for the kids once they turn 13.
The Carroten Swim is held at Bondi Beach on the 3rd December 2023.
All swimmers must mark their name off the list at the registration tables which will take place upstairs at Bondi Beach. Registrations open at 6.45am, so you can collect your wave's coloured swim cap.
Don't be late, as the Junior Ocean Swim registration closes at 7:30am, with the compulsory swimmer briefing at 7:45am at Bondi. Start time: 8:00am
No cash will be accepted on the day for the late entries, please bring a smart device to have access to the late entry form.
Please note: Start times are indicative only and may be subject to change by the event organisers on the day of the event. Announcements will be made if changes are required. Your understanding and patience is appreciated.
Bring your goggles and your compulsory pink hi-vis rashie - all kids will receive an event swim cap to wear on the day.

400m course

U9, U10 & U11-U13

800m course

U11, U12, U13




This event is open to all SLS registered U9 - U13 nippers.

This event is for the budding ocean swimmer! We know the kids love to get in and have a go with their friends, so this event is open to all registered Nippers from ANY Surf Club in Australia (2023/24 season) aged under 9's - under 13's

Junior Ocean Swim presentation will take place following the final race at the Carroten tent in Bronte park.

Prizes are awarded for 1st, 2nd & 3rd place in each age category and gender.

Wetsuit wearers will not be eligible for prizes. Find more about our wetsuit policy in the wetsuit policy section

There is also a prize for the biggest team from a visiting SLSC, as well as a lucky draw prize.

Prizes are donated by our sponsors and event partners.




The JOS prize presentation will be at 9:00 at Carroten Tent.




Don't hesitate also to have a look at our prizes presentation page

Enter your child into the wave that corresponds to their Nippers age group for this season.

Wave Sequence
Start
Category
Wave 1
8:00am
U11's to U13's - 400m
Wave 2
8:05am
U10's - 400m
Wave 3
8:10am
U9's - 400m

5minutes break

Wave 4
8:15am
U13's - 800m
Wave 5
8:20am
U12's - 800m
Wave 6
8:25am
U11's - 800m

Why do we have waves?

For swimmer and our water team's safety, as we need to limit numbers in the water at any one time.
To ensure swimmers are within a category suitable for their age.
To ensure fairness in competition and promote sportsmanship.




Why are 5 min break scheduled between the waves?


To maintain swimmer safety at all times
To limit the number of swimmers on the course at any one time

First and foremost, our responsibility to is to ensure the safety and comfort of all swim participants and our Water Safety Team. Equally, we want every single person to enjoy their swim experience.

Water temperatures and surf conditions can vary significantly year on year. Swell direction can keep people in the water longer than their average 2km pool swim, which in turn keeps our water safety team in the water longer.

We have a clearly defined wetsuit policy that enables all swimmers to decide whether to wear a wetsuit on the day dependant on conditions. The policy allows for participants to have a fair and equitable opportunity to win prizes if that is a priority for them.

Please ensure, if you are keen to be in the running for a prize, that you have read and understood our complete wetsuit policy