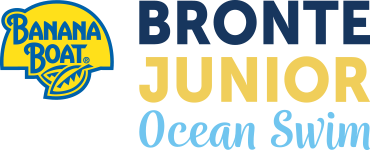 Junior Ocean Swim Course
The Banana Boat Junior Ocean Swim is held at Bronte Beach.

Both the Mini and Maxi course start and finish in the same location, so all swimmers can have their family and friends nearby to cheer them on and celebrate with them at the finish.
Maxi Course 800m: U11, U12, U13
The final positioning of the buoys will depend on the conditions on the day. Swimmers are to keep the course markers (buoys) on their left throughout the swim and ensure they sight the buoys and listen to directions from the water safety team.

Mini Course 400m: U9, U10 & U11-U13's
There are three waves for the 400m mini course:
Wave 1: Under 9's
Wave 2: Under 10's
Wave 3: Under 11, Under 12 & Under 13 Combined (for kids that don't feel confident doing the 800m)
Water Safety
Water Safety personnel are located throughout the course with rescue tubes, board paddlers an IRB and a Jet Ski.
Video by 2LittleFish